ISSN(print): 1979-8539
ISSN(online): 2746-1734


NUTRIRE DIAITA is a peer-reviewed and open access journal in Nutrition, published by Lembaga Penerbitan Universitas Esa Unggul.
NUTRIRE DIAITA publishes original research articles, review articles, and clinical studies covering the broad and multidisciplinary field of human nutrition. In the aim of improving the quality of the journal since Oktober 2019 this journal officially had made a cooperation with Nutrition Department Universitas Esa Unggul
Please read the author guidelines carefully. Author who wants to submit their manuscript to NUTRIRE DIAITA should obey the NUTRIRE DIAITA Article Template. The editors will only accept the manuscripts which meet the assigned format.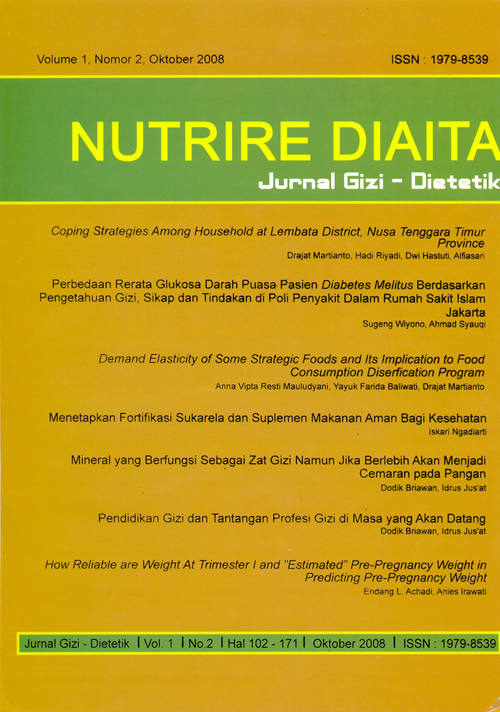 Announcements
No announcements have been published.
Vol 14, No 2 (2022): NUTRIRE DIAITA
Table of Contents
| | | |
| --- | --- | --- |
| | Waryana Waryana, Intan Safri Rosyida, Slamet Iskandar | |
| | | |
| --- | --- | --- |
| | Sikmalani Sikmalani, Yulia Wahyuni | |
| | | |
| --- | --- | --- |
| | Dinda Ayu Laksmi Febrianti, Hartati Eko Wardani, Farah Paramita | |
| | | |
| --- | --- | --- |
| | Delima Citra Dewi Gunawan, Devillya Puspita Dewi, Kuntari Astriana | |